Bedford Bellringers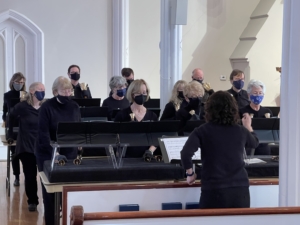 The Bedford Bellringers is a handbell choir that has been a part of the music program at BPC since the 1960s. Though the Bellringers have not been meeting regularly during the pandemic, rehearsals are typically on Tuesday
evenings at 7:15 pm.  The group adds their musical gifts to our services 3-4 times each year.
The bells, which belong to the church, are Whitechapel bells, made in England.  The set was started with two octaves, originally purchased in 1960 as a memorial gift, added to over the years, and now numbering 86 bells.  They had never been completely serviced.  However, individual bells needing repair have been sent to an English handbell repair company, one of three in the U.S.  In recent years it was realized that in order to preserve the value, tone, and playing capability of the entire set, there had to be a plan for refurbishing.
Thus, over a five-year period, from 2016 to 2020, groups of octaves were sent to be worked on until they were all in great shape.  This has included replacing parts, tuning, machine polishing, all to make them sound like new bells.  This was done through contributions by our congregation.  The work was completed just as the pandemic hit.  We continue to say thank you to everyone who helped us take care of the bells.
To learn more about the Bellringers, please contact Heidi Michaels at hmichaels425@gmail.com
In the "To" field, select "Bellringer's Fund."