Art from 2021 Christmas Eve Bulletins
5 PM Service Artwork:
"The Virgin Mary of Peace" by Shim Soon-haw Catherine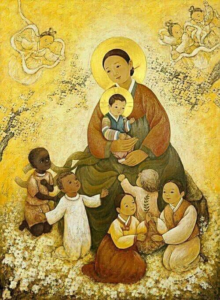 It depicts the Virgin Mary dressed in traditional Korean Hanbok attire, including the traditional binder hairpin, as she holds the little baby Jesus, surrounded by cherubs and flowers. The painting includes children of the world sitting at the Virgin Mary's feet, representing Africa, South America, the Middle East and the Koreas, all groups of people that need "peace," the artist said.
7 PM Service Artwork:
"The Blue Madonna" by Frank Wesley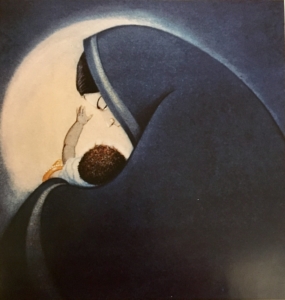 Frank Wesley was born in India on December 1923 into a fifth generation Christian family of Hindu/Muslim background.  
He began studying at the government school of Arts and Crafts in Lucknow in 1943 continuing to postgraduate study, later joining the teaching staff. Further studies included four years at the Kyoto Art University in Japan (1954-58) where he studied art and wood block printing. In 1958 he joined the Art Institute of Chicago where he studied modern art. He returned to India in 1960. 
His work has been internationally recognized. He designed the urn for Mahatma Ghandhi's ashes.  Five of his paintings were included in the 1950 Holy Year Exhibition at the Vatican.  "The Blue Madonna" was used as the first UNICEF Christmas card.
9 PM Service Artwork:
"Nativity" by He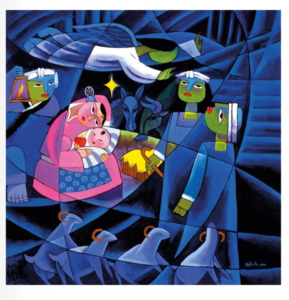 He Qi grew up in China's cultural revolution. During his teenage years, he spent his time painting portraits of Chairman Mao after being sent away to a communal farm. Secretly, He Qi painted portraits of Madonna in order to stay connected with his Christian faith. He Qi created this stylized depiction for the nativity in 1998 using ink and gouache on rice paper.
11 PM Service Art
"Nativity Mosaic" by Hanna-Cheriyan Varghese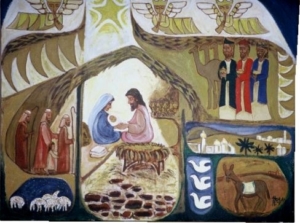 Hanna Cheriyan Varghese was a Malaysian Christian artist.
Hanna worked with different medium like oil colours, metal-tooling and wood-block printing. Her passion was  painting with Acrylic on canvas and batik-dyeing in fabric.
From the early eighties, Hanna began expressing her faith, spiritual thoughts and experiences together with Biblical imageries into tangible form. This acrylic on canvas mosaic brings together multiple themes and symbols from the Christmas story while highlighting the intimacy among Mary, Joseph, and the newborn Jesus.