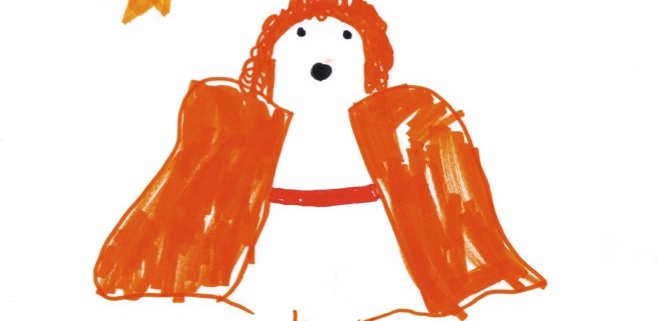 God sent the angel Gabriel to Nazareth, a village in Galilee to a young woman named Mary. Mary was engaged to a man named Joseph, a descendant of King David. Gabriel told Mary she will give birth to a son, and will name him Jesus.
At that time the Roman emperor, Augustus, decreed that a census should be taken throughout the Roman Empire. All returned to their own towns to register for this census. Mary and Joseph returned to Bethlehem in Judea. While they were there, Mary gave birth to her first child, a son. She wrapped him snugly in strips of cloth and laid him in a manger, because there was no room for them at the inn.
That night there were shepherds staying in the fields nearby, guarding their flocks of sheep. Suddenly, a multitude of angels of the Lord appeared among them, and the radiance of the Lord's glory surrounded them. "Do not be afraid!" they said. "I bring you good news! A special baby has been born today in Bethlehem. You will recognize him by this sign: You will find a baby wrapped snugly in strips of cloth, lying in a manger." The shepherds said, "Let's go to Bethlehem! Let's see this thing that has happened."
About that time some wise men from eastern lands arrived in Jerusalem, asking, "Where is the newborn king of the Jews? We saw his star as it rose, and we have come to worship him." The star guided them to Bethlehem and stopped over the place where the child was. They entered the house and saw the child with his mother, Mary. They opened their treasure chests and gave him gifts of gold, frankincense, and myrrh.
Share the above Christmas Story with your children. As we do in Sunday Spirit have them retell the story through illustrations. Some illustration ideas:
The Angel Gabriel
Mary being visited by the Angel Gabriel
Mary and Joseph traveling to Bethlehem
Stable scene of Mary, Joseph, Baby Jesus and animals
Shepherds visited by a multitude of angels
Wise men following the star
Wise men kneeling and presenting Jesus with gifts of gold, frankincense and myrrh
https://mywt5-files.s3.amazonaws.com/wp-content/uploads/sites/77/2018/12/04191758/angel.jpg
508
657
jdealto
jdealto
2018-12-05 15:36:11
2019-12-05 13:55:39
The Christmas Story